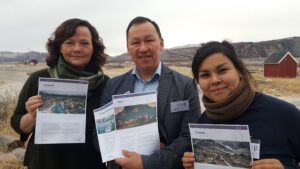 This week, Sermersooq municipality launched guidelines for visitors to Nuuk, Paamiut, Tasiilaq and Ittoqqortoormiitt, using a template developed by the Association of Arctic Expedition Cruise Operators (AECO). Sermersooq is the first municipality in Greenland to introduce Community Specific Guidelines for all communities at once.
The guidelines offer tips and tricks to get around and advice on how to be a considerate guest. Among other things, the guidelines encourage visitors to enjoy the town and landscape, but to be considerate in their interactions. Among other things, visitors are advised to be respectful during church services, ask adults before photographing children and leave no trace behind. Guests are also given advice in regards to buying goods locally and get useful tips on practical matters such as Wi-Fi access, payment methods and sites worth visiting.
The guidelines were created by Sermersooq Business Council in collaboration with local stakeholders from the four communities, with assistance from AECO. The guidelines are based on a template developed by AECO with funding from NORA (North Atlantic Cooperation).
Salik Hard, senior project manager at Sermersooq Business Council, says that the guidelines are also part of a wider effort to highlight some of the attractions that Greenland has to offer.
"These four communities in East and West Greenland offer unique experiences to visitors. Travelers have the opportunity to combine urban and cultural impulses with raw Arctic nature. These guidelines aim to inform visitors about some of the unique characteristics of our communities and explain how they can be considerate guests. We are used to welcoming visitors and will use these guidelines to make sure that visits are a positive experience for everyone involved We are seeing an increase in cruise tourism and we hope that all cruise ships calling on our communities will recognize and make use of these guidelines," says Hard.
Frigg Jørgensen, executive director of AECO, says that the expedition cruise industry cares about ensuring good dialogue between local communities and cruise operators.
"We are excited to see that our Greenlandic partners have embraced this tool and we are impressed to see that Sermersooq municipality have managed to developed guidelines for all four communities in their region. These guidelines will be a valuable tool for both the communities and operators."
The new Community Specific Guidelines for Nuuk, Paamiut, Tasiilaq and Ittoqqortoormiitt are available on the webpages of and AECO. Similar guidelines have already been launched for Longyearbyen, Ny-Ålesund, Sisimiut and Seyðisfjörður, making it a total of eight Community Specific Guidelines created in the circumpolar Arctic. Several additional guidelines are in the pipeline.
In photo: Frigg Jørgensen, Executive Director, AECO; Salik Hard, Senior Project Manager, Sermersooq Business Council; Iddimanngiiu Bianco, Destination East Greenland.
The new guidelines are available here:
Nuuk Community Guidelines
Paamiut Community Guidelines
Ittoqqortoormiit Community Guidelines
Tasiilaq Community Guidelines
Resources for download:
Press release  (English)
Press release (Greenlandic)